Our Doctor
Two Board-certified pediatricians provide comprehensive care for your child from birth until age of 21. Both doctors are available every day for sick calls, physical examinations and immunizations.

Poughkeepsie Pediatrics, PC proudly serves patients living in the Hudson Valley. We are committed to providing the best care possible.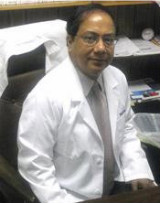 Dr. Biswas (left) is a Board-certified pediatrician who has extensive knowledge in Pediatrics and has been treating children for the last 33 years. He has diverse experience working in different countries. Dr. Biswas graduated from Dhaka Medical College, Bangladesh in 1977 and completed his internship at Dhaka Medical College Hospital.
He has completed residency training at the Department of Pediatrics, Bronx-Lebanon Hospital, Bronx, NY. He has completed his Diploma in Child Health (DCH) from University College, Dublin, Ireland. He also earned a Diploma in Tropical Medicine (DTM) from Royal College of Surgeons, Dublin.
Dr. Biswas has completed his Fellowship in Pediatric Endocrinology at The Children's Hospital, Sydney, Australia. He also earned a Master of Public Health (MPH) from West Virginia University, Morgantown, WV. Prior to his residency, Dr. Biswas served as an Epidemiologist at the New Mexico State Department of Health, Santa Fe, NM. He has several publications on work-related injury.
Dr. Biswas is a Board-certified and Pediatric Advance Life Support (PALS) certified pediatrician serving in Poughkeepsie and is a fellow of American Academy of Pediatrics. He is practicing in general Pediatrics. Dr. Biswas is interested in neonatology and behavioral problem with special interest in Pediatric Endocrinology. He is dedicated to serving children in Hudson Valley.